Obituary for Hershel Burke Gilbert, by Dennis McLellan, Los Angeles Times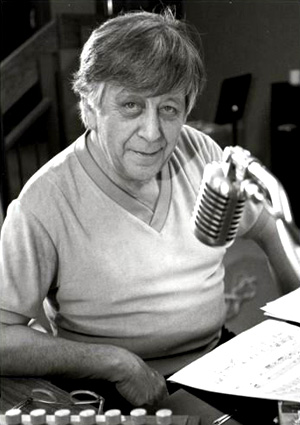 Herschel Burke Gilbert, an Oscar- and Emmy-nominated composer who wrote the memorable music for "The Rifleman" and a string of other TV shows, has died. He was 85.
Gilbert, who later produced classical chamber music recordings on his own labels, died Sunday at Cedars-Sinai Medical Center in Los Angeles after having a stroke in March.
A onetime viola player and arranger for the Harry James Orchestra, Gilbert began his Hollywood career in 1944 when he was hired as an arranger and orchestrator for Columbia Pictures. Working at Columbia and other studies, Gilbert composed, arranged, or orchestrated the music scores for 62 movies.
In the early 1950s, he earned three successive Academy Award nominations: "The Thief" (best score, 1952), "The Moon is Blue" (best song, with lyrics by Silvia Fine, 1953), and "Carmen Jones" (best scoring of a musical picture, 1954).
A pioneer of background music scoring for television, Gilbert's theme and music for "The Rifleman" led to his being hired as executive music director for Four Star Television. From 1959 to 1964, he composed music for numerous Four Star series, including "The Dick Powell Theater" (for which he received two Emmy nominations), "The Detectives, Starring Robert Taylor," "The Rogues," "The DuPont Show," "Burke's Law," and "The Loretta Young Show."
From 1965 to 1966, Gilbert was executive music director for the CBS Television Network, serving as composer, conductor, and music supervisor for 300 CBS TV show episodes. His score for "Damon's Road," a two-hour episode of "Rawhide," received a Western Heritage Award from the Cowboy Hall of Fame.
A former president of Screen Composers of America, Gilbert was active in helping film composers become members of ASCAP (the American Society of Composers, Authors, and Publishers) and receive film royalties. And while at Four Star, he successfully developed a policy that eliminated "ghost writing without proper credit" for composers.
"How can you hear the theme music today, much less remember it, when at the end of every show the theme is virtually shut down while an announcer shouts at you to stay tuned in for whatever is coming next, or the star of the following show is berating you with the same message?" he asked.
Before the practice began four years earlier, Gilbert said, TV fans would write in by the thousands for theme titles of shows and buy recordings of them. After the promos began, he said, viewers were hardly aware that a show even had a theme music.
Networks seem to have forgotten how valuable a popular theme can be to a TV series, he said, citing the famous "da-de-da-dum" chorus of "Dragnet," which as parodied by comics and other shows.
"Just imagine," he said, "how many free plugs 'Dragnet' has received in this way."
After retiring from television in 1966, Gilbert formed his own record company, Laurel Records, which produces chamber music of primarily contemporary American composers in addition to some jazz. Gilbert, joined in recent years by his son John, produced more than 60 LPs and 28 CDs featuring the music of Ernest Bloch, Henri Lazarof, Paul Hindemith, David Baker, Robert Muczynski and others.
Born in Milwaukee in 1918, Gilbert began studying violin at age 9. At 15, he formed his own dance orchestra. He attended Milwaukee State Teachers College and in 1939 was accepted at the Juilliard School of Music in New York, where he received a graduate school fellowship in conducting and studied composition.
Gilbert was active in numerous community organizations, including the West Hollywood and Hollywood Rotary Clubs, where he ran the District 5280 Music Scholarship Awards; and the Hollywood Community Mental Health Foundation.
He also was a past president and head garden master for Wattles Farm Community Garden and served as president for more than 20 years of the Nichols Canyon Homeowners Assn.
He is survived by his wife of 60 years, Trudy; his daughters Toby G. Bernstein of Los Angeles and Gwen Olson of Poway; sons John of Berkeley and Paul of Los Angeles; and three grandchildren.
In lieu of flowers, donations in Gilbert's memory may be made to the Juilliard School, for the Herschel Burke Gilbert Family Scholarship Fund, in care of the Office of Development and Public Affairs, The Juilliard School, 60 Lincoln Center Plaza, New York, NY 10023
Memorial Services are pending.
Herschel Burke Gilbert biography.