Home Page
New Releases
Rudolf Barshai
Marimba Music
Piano Music
Ernest Bloch
Baker & Lazarof
String Quartets
Symphonic-Chamber-Voice

HARPS OF THE ANCIENT TEMPLES
A 23,000 Year Trip Back Through Man's Magnificent Past:
His Temples, Deities and Rituals-Expressed Through
The Sounds of His Favorite and Eternal Instrument.
Conceived and Performed by Gail Laughton
The Hebrews 425 A.D.
Japan 375 A.D.
Pompeii 76 A.D.
Greece 300 B.C.
The Mayans 700 B.C.
Crete 1400 B.C.


Babylon 1500 B.C.
Stonehenge 1600 B.C.
Egypt 1700 B.C.
Lemuria 16,000 B.C.
Atlantis 21,000 B.C.




The Hebrews 425 A.D.


Pompeii 76 A.D.


Lemuria 16,00 B.C.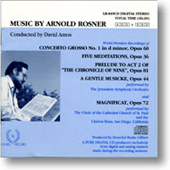 LR-849 $14.99
Review



Music by Arnold Rosner
The Jerusalem Symphony
Choir of the Cathedral Church of St. Paul
The Clarion Brass Quartet of San Diego
David Amos, Conductor
Concerto Grosso No. 1
Five Meditations
Prelude to Act 2 of the Chronicle of Nine
A Gentle Musicke
Magnificat


Concerto Grosso No. 1, I
FLUTE MOMENTS WITH TERESA BEAMAN
Jane Davis Maldonado & Andreas Werz, pianists
Eldin Burton: Sonatina for Flute & Piano
Robert Muczynski:
Three Preludes for Solo Flute, Op. 18
Moments for Flute & Piano, Op. 47
Katherine Hoover: Kokopeli, for Solo Flute
Arthur Foote: Three Pieces for Flute & Piano, Op. 31
John Anthony Lennon: Echolalia for Solo Flute
Joseph Schwantner: Soaring for Flute & Piano
Lowell Liebermann: Sonata for Flute & Piano, Op. 23
Anne La Berge: Revamper for Solo Flute


Muczynski:Moments for Flute & Piano, I
LR-838 $14.99
Review

HARPSICHORD SONATAS by PERSICHETTI and SCARLATTI
Elaine Comparoni, Harpsichord
Vincent Persichetti:
Second, Third, Fourth, & Fifth Harpsichord Sonatas
Domenico Scarlati:
Harpsichord Sonatas: A minor L.138, K.10 Adagio
F Major L.474, K.107, Allegro
D Major L.178, K.258, Andante
C minor L.160, K.363, Vivace
C Major L.457, K.132, Cantabile
C Minor L.157, K.48, Presto


Persichetti: 2nd Harpsichord Sonata: I
LR-855 $14.99
Review



KABARETT KURT WEILL
Pamela Alexander, Soprano
Special arrangements of 14 Kurt Weill songs
approved by the Weill estate
| | |
| --- | --- |
| Complainte de la Seine | Der Abschiedsbrief |
| Le Roi d'Aquitaine | Pirate Jenny |
| Youkali | Barbara Song |
| Je ne t'aime pas | Die Muschel von Margate |
| Le train du Ciel | Nanna's Lied |
| Scene au Dancing | What Did She Get, That Solder's Wife? |
| Es regnet | Surabaya Johnny |


Je ne t'aime pas
THE BIRTH OF THE WARGOD
Performed by The Western Wind Vocal Ensemble
(Singers of Philip Glass' Koyanisqatsi)
Laurel's First Next Age Compact Disk!
The Birth of the War God - World Premiere Recording
The Cloud Will Break - Texts by Jerome Rothenberg
The Canticle for Brother Sun - Text by St. Francis of Assisi


Birth of the War God: Part 2